This article relates to the Goods & Services Tax (GST) which was introduced in April 2015, but was subsequently replaced with the Sales & Service Tax in September 2018.
Wednesday 16th May 2018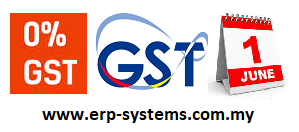 The Goods and Services Tax (GST) will be zero-rated for all items and services in Malaysia from June 1 2018, the Finance Ministry announced today
The ministry said the GST will no longer be imposed at a rate of 6 per cent from then on, adding that this will be subject to further notice.
Accordingly, all registered merchants must comply with the imposition of the zero rate.
At the same time, registered traders are still subject to all current regulations set forth in respect of the issuance of tax invoices, tax returns within the prescribed periods of charge and input tax credit claims.
"Traders also need to ensure the price of goods and services that are set to comply with the Price Control and Anti-Profiteering Act 2011 at all times," the statement said.
FAQs