Sage Wins Two Frost & Sullivan Asia Pacific Awards For Accelerating Business Financial Efficacy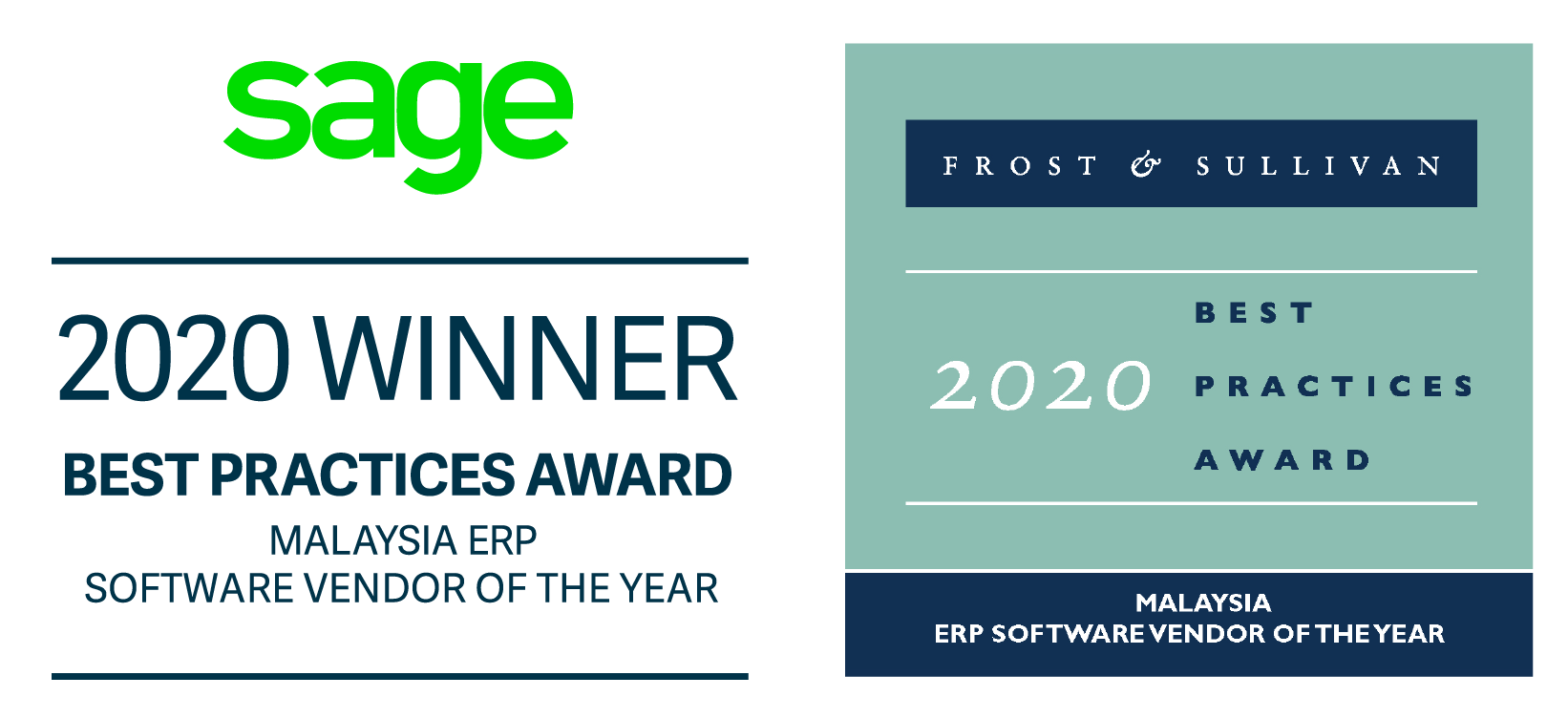 Recognised for it's digitalisation push in Malaysia's financial and business landscape, Sage wins the Malaysia Financial Accounting Software Vendor & ERP Software Vendor of the Year 2020 awards.
Sage, the market leader in cloud business management solutions has been recognised as the 2020 Malaysia Financial Accounting Software Vendor and 2020 Malaysia ERP Software Vendor of the Year by global research and consulting firm, Frost and Sullivan.
This is the third consecutive year Sage has been recognised by Frost & Sullivan for its best-in-class software and contribution to industry best practices.
A push for digital adoption across businesses has never been more crucial with the Malaysia Government's short term economic recovery plan (PENJANA) allocating more than RM 700 million for SMEs (Small Medium Enterprises) and MTCs (Mid-Tier Companies) to adopt digital transformation, in a bid to help local businesses through the COVID-19 downturn.
"It's been an extremely challenging year. The pandemic has disrupted businesses globally but has also given them an impetus to invest in and realise the value of digital tools."
"As organisations everywhere adjust to this 'next normal', business recovery and re-innovation globally will depend on their ability to increase productivity and stay agile, to stay alert to new opportunities and to adapt to them. For that, digital tools will be essential," said Arlene Wherrett, Vice President & Managing Director, Sage Asia.
"Sage has been present in Malaysia since 1997 and to be awarded with this accolade shows that our investment into people and technology has been recognised. It is our second win in two consecutive years, as Sage was also awarded the Frost & Sullivan APAC Accounting Software On Cloud Provider of the Year 2018."
Arlene Wherrett
Vice President & Managing Director
Sage Asia
She continued, "Receiving a Frost & Sullivan award for both the Financial Accounting Software and ERP Software Vendor of the Year attests to the value Sage brings to customers and partners."
"Sage has demonstrated a robust Malaysia focus in its product line through localisation and customer value enhancement initiatives, augmented with partner enablement practices. This has enabled Sage to create a strategic advantage and achieve significant success in the Malaysian market." said Nishchal Khorana, Senior Director, ICT Practice, Frost & Sullivan in reference to Sage's win for the Malaysia ERP Vendor of the Year Award.
Siddesh K. Hule, Research Analyst, ICT Practice, Frost & Sullivan said, "In aligning to the unique requirements of customers, Sage offers comprehensive financial accounting products on both on-premise and cloud deployment models.
"Through its focus on customer services, the financial accounting software vendor continues to strengthen its ecosystem and partner-centric strategy, accelerating its reach and growth into the Malaysian market."
---