Enterprise Resource Planning, or ERP for short, is a software solution that is designed to automate and manage the different core processes of a business.
ERP systems would usually consist of different modules that represent the various departmental functions of a business.
For example, Finance would have the General Ledger module, while the Sales department would work with the Order Entry module.
There are separate modules as each department in a business would have different business rules and procedures that govern their day to day activity.
For example, Accounts Receivable would primarily be responsible for ensuring that payments for invoices are received within a specified period of time and that credit limits are not exceeded.
They would need to follow up with customers on outstanding invoices, and if payments are overdue or credit limits are exceeded, put customer accounts on hold to prevent the occurrence of bad debts.
Accounts Payable on the other hand would be more concerned with paying suppliers in a timely manner so as not to disrupt the supply of goods.
More importantly, they would also be responsible for verifying the authenticity of the invoices and ensure accuracy.
---
An ERP system helps:
Unify people and processes across an organization
Improve communication and collaboration
---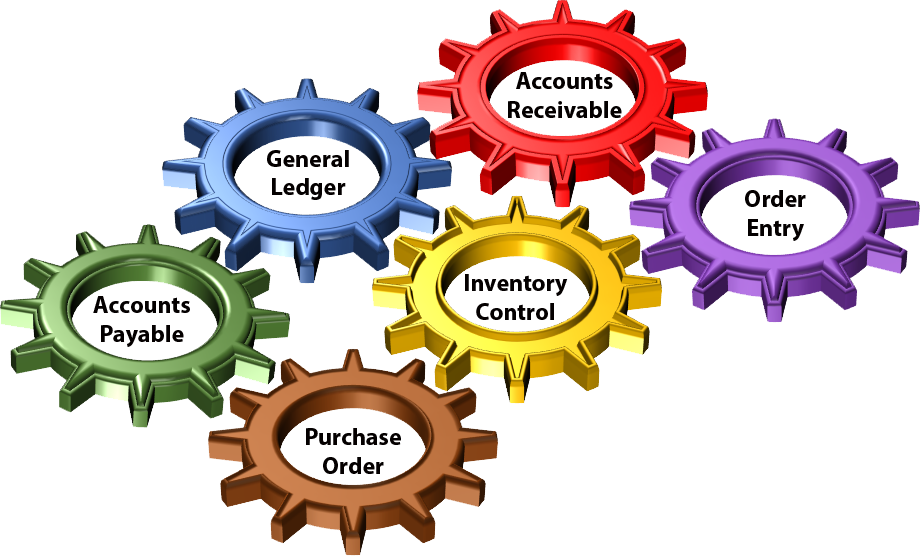 Shared transactional data
Although these would essentially be separate modules, ERP brings these functions together into one tightly integrated solution.
What this means is that data updated into one module flows through to related modules.
For example, payments received in Accounts Receivable would flow through to Banking and General Ledger.
Similarly, payments to suppliers made in Accounts Payable would also update the same modules.
Cross-departmental visibility
More pertinently, information would be available across related modules.
In the above example, Finance would be able to drill down from the General Ledger to the invoice in Accounts Receivable.
This is because, as with Sage 300, all the modules use one data repository.
How does ERP differ?
No doubt, most, if not all accounting solutions would do the same, but this is where the similarity ends.
ERP solutions are essentially developed to serve mid-sized, and to a certain extent, larger businesses.
How ERP differs is in the features, security and more critically, the volume of transactions that mid-sized businesses would need to handle.
Why modules?
Each module is designed specifically around the requirements of the business function it has to handle.
Accounts Receivable and Accounts Payable have different business rules that need to be followed, as would Inventory management or Sales.
Each module is designed and developed primarily to cater for the specific functions of a department.
Most of these modules can work independently or as a tightly integrated solution with the other modules.
With modules, you get a separation of responsibilities by department, but also have the advantage of collaboration because these modules share data from one common database.
Sales for instance has instant access to stock availability from the Inventory module, and also credit status of the customer from the Accounts Receivable module.
Similarly, Purchasing has insight into what's in stock as well as what customer orders need to be fulfilled in making decisions on what and how much to purchase.
What's the advantage?
Not all ERP systems have modules packaged and sold separately.
Sage 300 does.
In Sage 300, each of the core finance modules, General Ledger, Accounts Receivable and Accounts Payable can be implemented by itself without the other modules.
It's the same with the Inventory Control module.
There are several advantages to this.
Implementing in stages
The first is that, instead of starting with all the modules, you can implement one module first and then move on to another.
This is really a plus point when considering bringing in an ERP system into the organisation.
It eases the complexity of implementing an entire system and you can manage each phase separately, allowing your organisation to grow into the system.
Invest in stages
It also means you do not need to make a bigger investment upfront and can stagger it out over a period of time giving everyone involved time to adapt and familiarise themselves at each step.
So, if managing inventory is critical, you can implement that first.
Of course, if manpower and financial resources permit, there is no restriction to implementing all the modules in one phase.
---
With the speed of business accelerating, you need business tools that are even faster if you want to gain a competitive advantage.
Find out how you can leverage a connected ERP system to take your business up to the next level.