Deployment options are a huge differentiator within the Sage portfolio.
Sage provides 'freedom of choice' rather than a 'one-size fits all' approach because functional requirements, technical capabilities, business processes, and budget differ greatly with SMBs.
Sage provides a choice of on-premises, hosted, or true Cloud deployment.
Sage 300 specifically is a hybrid approach of private cloud facilitating mobility and on-premise deployment for data to remain within a company's firewall.
How and where you setup your applications depends on several factors:
The solutions can be deployed in the following scenarios:
Cloud
On premise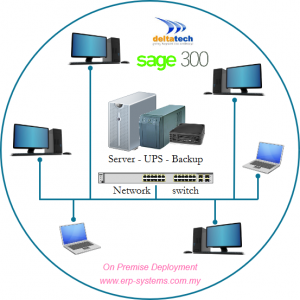 The solutions are deployed on internal server(s), and will be connected throughout your organisation via internal network.
The initial cost of setting this up would be higher as you would have to invest in a server, operating system licencing and infrastructure.
The application would then be available to employees within your office.
You can also make the solution available outside the office by having a fixed IP internet connection or a dynamic IP connection with a subscription to a managed DNS service like DynDNS.
Security, backups, maintenance and upgrade of server and operating system will be handled by your internal IT department.
Application maintenance like upgrades can either be handled internally or outsourced to us.
Managed Hosted
This is similar to on premise, except that the server is provided and hosted by us.  It requires a much lower capital outlay as you do not have to purchase the server and operating system, and do not need to set up the infrastructure to house the server.  You also do not need to have an in house IT department to maintain the server and network.
In a managed hosted environment, the application would be available to your employees both within and outside the office.
You server will be hosted at a data centre that has all the necessary infrastructure such as firewall, UPS, high bandwidth internet connectivity, fixed IP address and more.
All you will need for each user is an internet connection.
The cost is an annual subscription which includes server and application maintenance.
Cloud
Cloud hosting provides an on-demand computing platform that you subscribe to on a pay-as-you-go basis.You would be responsible for setting up and configuring of the server.
We will deploy and maintain the application for you.
The cost is variable. Cloud hosting services charge according to usage like bandwidth, hard disk space, RAM, etc.
The drawback with an on-demand computing platform is that it is billed monthly and you would require a credit card for payment of services.
Which one is ideal?
Which option you choose depends on your organisation. If you have a full time IT department that can manage the server, network, etc, then the On-premise option would be ideal.
On the other hand, if you do not have anyone full time handling the server related support, then the Managed Hosted or Cloud solution would be the way to go.
Need help?
Have questions or need more information?
Contact us
---
Sage 300 deployment options
---